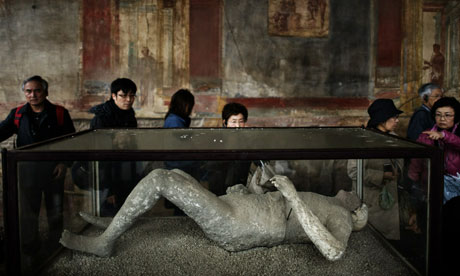 A loaf of bread which was put in the oven in AD79 and removed from it in the 1930s, and a charred baby's cradle which still rocks almost 2,000 years after its owner died, are some of the objects coming to the
British Museum
this spring for its exhibition on one of the most famous disasters in history: the
eruption of Vesuvius
.
As well as the objects which surrounded them in life, there will be casts made from the bodies of those who died in 79AD, when the monstrous eruption blew off the entire top of the mountain and engulfed the Roman towns of
Pompeii
and
Herculaneum
.
The six casts of those who died choking in the ash which fell like snow or were poisoned by noxious gases, include the most famous dog from the ancient world, frozen in time writhing against its collar and the rope which still tied it to a stake as it died. It was found just a few yards from an equally famous mosaic, which is also coming, originally guarding the threshold of a house in Pompeii, of a prancing red-collared black and white dog with the warning
Cave Canem
.
Among thhe items coming to the exhibition are the remains of an entire family, two adults and two children, found cowering under a staircase in Pompeii. The casts were made in a technique invented in the 19th century to preserve the most moving testimony to the catastrophe by pouring plaster into the voids in the ash left as bodies decomposed, preserving the people as they fell – covering their heads, curled up like babies, or struggling to shelter a child.
The two towns were different in life and death. Herculaneum was overwhelmed by a fiery pyroclastic flow hot enough to evaporate human flesh, so fast and furious that charred food remained on carbonised tables from meals that were never eaten. The town was buried 80 feet deep, and only a third of it has been excavated. Pompeii choked more slowly, and the tops of buildings were left sticking out of the ash field, so as early as
Roman times
people burrowed into the ruins for building materials and works of art.
Via
British Museum uses its loaf as Pompeii exhibits come to town